(English)
Wingdari Spitit of the Anzacs called  "Sully" or "Sull".
He is imported from Australia in January 2018, and he's birthday  3.2.2015
We are 3 Owners:
Kennel Bocopie's "Gro Gitlevsen", Norway
Kennel Whyalla's – "Marika Elmersson" , Sweden
Maibritt Høj Clausen, Denmark.
Sully was only exhibited in conformation shows in Australia and therefore was completely untrained regarding all obedience training.
He has been tested for HD : A – AD : 0-0 , eyes normal and normal scissor bite.
We have imported him to get other lines to the north from Australia. We have chosen a kennel called Kennel Wingdari, one of the oldest Australian Kelpie Kennels, and we already know these lines, and liked them and have now imported some others lines. Marika from Kennel Whyalla's has previously imported more puppies from this kennel over the years, which has been the basis for her breeding's work.
Maibritt bought 11 years ago Whyalla's Black Gali – called Aussie from Marika and Gro borrowed Aussie 6 years ago to use him on Bocopie's Allegro, and yes…. friendship has just grown bigger and bigger between us 3 and the idea for Sully occurred.
Sully is trained and lives with one of his owners, Gro Gitlevsen in Norway.
Gro's mental description of Sully :
Training : Gro has had to start all the way from puppy stage with obedience exercises when we got him untrained. He takes good care of everything new and it seems that he enjoys training, always very happy and has no trouble repeating the exercises with precision. He can, until now, retrieve, call, sit, stand and lay down. He has just begun track and round training, and as a spectator, I have seen that he gives himself 100% to find the figurants and meets all the challenges he gets from Gro. He is being trained close by a shooting range so shot is no problem for him. He will of course be exhibited in the future when Gro thinks he is ready for it, and we expect it to be later in 2018.
Socially behavior to people : Sully is very happy for all persons of all sizes.
Social to other dogs : Sully lives with 3 bitches in his everyday life and there are absolutely no problems. Even with 3 bitches in heat, he shows NO signs at all of stress and  aggressive tendencies towards other male dogs, he can eat of the same food bowl as the oldest bitch. So he also has no food defence. He is generally a very loving and a very happy dog.
In general : Sully is an open and positive dog with a lot of joy and zeal in everything he does. He loves everything and everyone and is always open to new things. He loves to be chatted and always has a look that says; "What should we do now, I´m ready? ":-) He loves to drive and is just" HAPPY "with life.
If Gro should say something different about him, Sully may be "stubborn" in certain situations, but not in terms of training, he is always willing and doing his best.
With only 2 words Sully can be described as follows: "HAPPY DOG".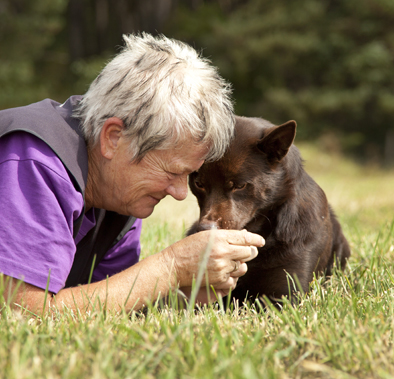 Sully´s First exhibition to an International dog Show in Herning 
We are very pleased with his attitude in the ring….because of illness, someone else had to show him, so everything was new to him, but he went very well in the ring and was easy to show.
It should be mentioned that there was no BOB for the kelpie race this day, the judge did not think there was enough quality or ……..!!!!!  ;-). I have not tried that in the 11 years I have exhibited.
03.11.2018
Herning-

Demmark

Danish Kennel Club
Judge: Marleen Collins
Exc.ÅK Plac.2
Description:
Young male shown in god coat and condition, well placed ears, good scull,
beginning to body up well, good rear drive on the move



04.11.2018
Herning-

Denmark

Danish Kennel Club
Judge: Liliane De Ridder-Onghena
Exc.ÅK Plac.2 CK 2.BHK R.CERT R.CACIB
Description:
3 and a half years, scissor bite, nicely proportioned head but a bit coarse 
in the skull, very dark eye, strong neck, good lay of shoulder, a rich depth of body, a bit sloping 
in croup, nice rear angulation, moves well and with good tride.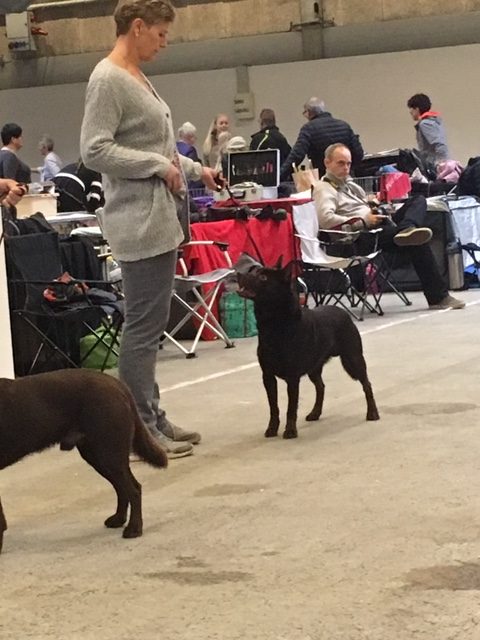 Sully now exhibited in Norway with great result.
Open Class. Judge Kurt Nilsson, Sweden. Town: Etne, Norway 10/2-2019.
Excellent head, typical expression, good neck,  excellent backline, good chest, good angles,
beautiful color, beautiful coat.
Exc.Open Class Plac.1 CK 1.BHK CERT, BIR and BEST IN SHOW NO.4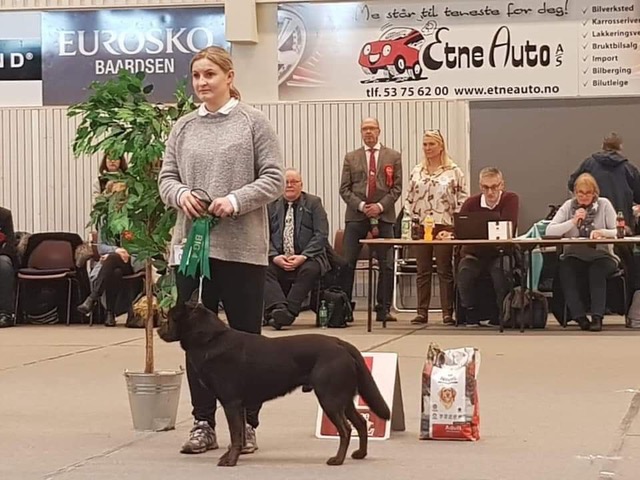 Wingdari Kennel Marie Coyler descriebe Sully as: (copy from her homepage):
"Sully" – has character, is cheeky and full of confidence and just loves everone. This pup has attitude. Sully has the best temperament, lovely dark eyes which  so many Kelpies are missing these days and a ruff and brush on the tail which seems to be disappering on many Kelpies that are being bred. Sully also has a correct undercoat and beautiful top coat.
We honour our "Asutalien Diggers" on 25 April – Anzac Day each year. As "Sully" was born close to this occasion, I felt that this little guy could be named in honour of these wonderful people. I hope this little guy can live up to his name "Wingdari Spirit Of The Anzacs.
Cannot say much more as yet. Still getting to know this independant whirlwind. Looking forward to this little man going out and having fun and being a good representive for our wonderful Kelpies.
Sully won "MINOR IN SHOW" at the recent Australian Kelpie Speciality Show Sep. 2015.